Blink® Charging Solutions: Powering Electric Vehicles Everywhere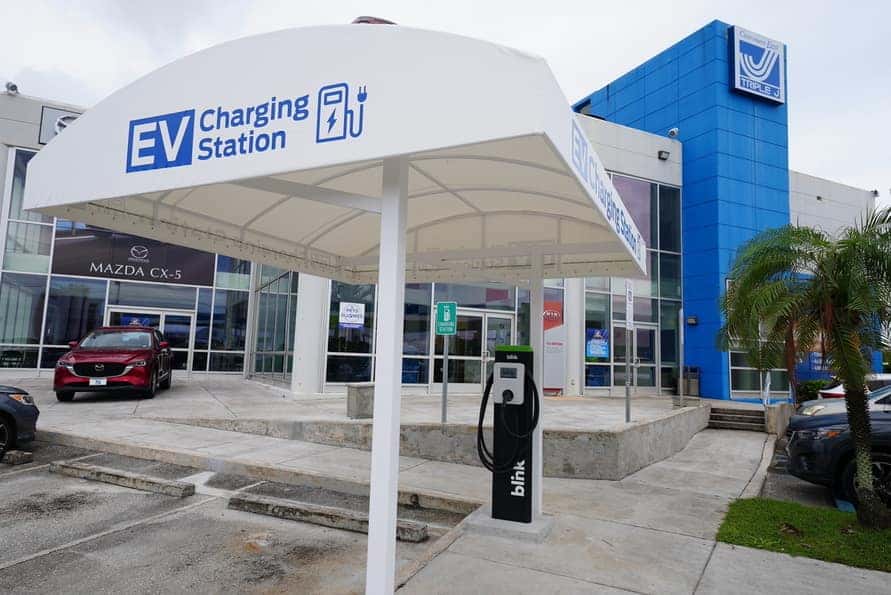 *New Location*

: Triple J Enterprises, Inc. and Agana Shopping Center proudly announce the installation of Guam's newest Blink® charging station. READ MORE
Welcome to Triple J's Blink® Charging Solutions, your go-to source for comprehensive charging infrastructure solutions for electric vehicles (EVs). Whether you're an EV driver, a residential property owner, a commercial business, or a public establishment, our range of charging solutions is designed to meet your specific needs and contribute to a sustainable future.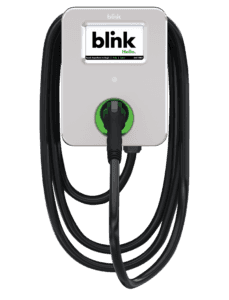 For EV Drivers:
Seamless Charging Experience: With our Blink® Charging Stations, EV drivers can enjoy a hassle-free charging experience. Simply plug in your vehicle, follow the prompts on the user-friendly interface, and charge with ease. Our Level 2 chargers deliver rapid charging speeds, ensuring you get back on the road quickly with maximum convenience.
Blink App Integration: Enhance your charging experience with the Blink App. Locate nearby charging stations, check availability in real-time, initiate and stop charging sessions, and access valuable information – all from the palm of your hand. Plus, by creating an account through the app, you'll unlock exclusive discounts on the charging rate.
How to use Level 2 EV Charger
How to Charge Guide
For Commercial Businesses:
Attract and Retain Customers: By offering Blink® Charging Stations at your commercial establishment, you can attract EV drivers who seek convenient charging options. Our charging solutions will enhance your customer experience, encouraging repeat visits and positioning your business as an environmentally conscious destination.
Expand Your Market Reach: Cater to the growing market of EV drivers and position your business as an industry leader. By partnering with Triple J, you can tap into a network of charging stations that spans across Guam, providing EV drivers with a reliable and accessible charging infrastructure.

For Public Establishments:
Support Sustainable Transportation: Become an integral part of Guam's EV ecosystem by installing Blink® Charging Stations at your public establishment. Show your commitment to sustainability and contribute to reducing greenhouse gas emissions by providing EV drivers with charging facilities they can rely on.
Drive Foot Traffic: Public charging stations attract EV drivers who are actively seeking charging opportunities. By offering charging solutions, you can attract new customers, increase foot traffic, and enhance the overall appeal of your establishment.
For Residential Properties:
Customized Home Charging Solutions: We offer tailored solutions for residential charging, providing homeowners with the ability to conveniently charge their EVs right from their own garages. Our residential charging stations are designed to be efficient, safe, and compatible with a wide range of electric vehicle models.
Expert Installation and Support: Our team of professionals will handle the installation process, ensuring a seamless integration of charging infrastructure into your residential property. We also provide ongoing support and maintenance to ensure your home charging station operates at its best.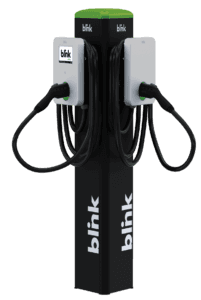 Partner with Triple J's Blink® Charging Solutions
No matter your charging needs, Triple J's Blink® Charging Solutions has you covered. From EV drivers seeking reliable charging options to residential, commercial, and public partners looking to provide charging infrastructure, our comprehensive range of solutions will power your journey towards a sustainable future.
To learn more about our charging solutions or discuss potential partnerships, please contact us today via email or by phone at 671-686-4585!