2019 Ford F-150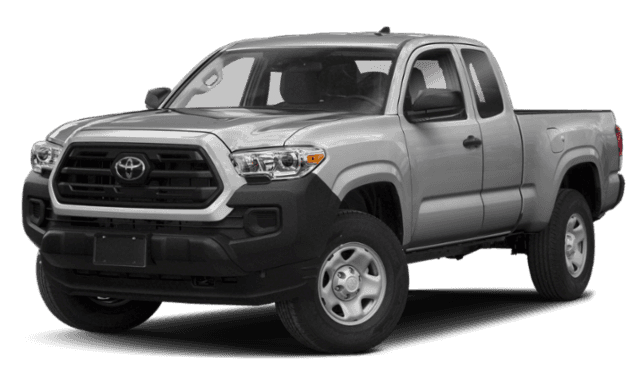 2019 Toyota Tacoma
2019 Ford F-150 vs. 2019 Toyota Tacoma
The 2019 Ford F-150 and the 2019 Toyota Tacoma are both world-renowned pickups, but if you came here expecting a competition that would keep you on the edge of your seat, you might be surprised at what you find. The F-150 is a full size pickup, while the Tacoma is a mid-size pickup. Although both models certainly have strong points that drivers on Guam will appreciate, the Ford F-150 vs. Toyota Tacoma matchup only shows that the F-150 is bigger, stronger, and more capable!
5.5 ft., 6.5 ft., or 8.5 ft.
Performance and Utility: F-150 vs. Tacoma
The Tacoma is available in six different trim levels, ranging in price from $25,850 MSRP to $42,960 MSRP. The F-150 starts at $28,155 MSRP, and is offered in seven trims. The range-topping Limited comes in at $67,135 MSRP.
The Toyota Tacoma is only available with two engines, a 2.7-liter I4 and a 3.5-liter V6. The F-150, for its own part, is offered with six different engines. Even the base engine beats out both of the Tacoma options.
The Tacoma only has a maximum towing capacity of 6,800 pounds. The F-150 beats this maximum with its base engine, which is rated for 7,400 pounds. When properly equipped, the Ford F-150 can tow up to 13,200 pounds.
With three different Ford F-150 bed sizes to choose from, it's easy to find a configuration that has exactly what you need. Both its regular and short cabs offer more cargo space than comparable options on the Tacoma, and the latter doesn't even offer a long bed.
An Off-Road Pickup for Guam Drivers: Tacoma or F-150
If you're interested in comparing the Ford F-150 vs. Toyota Tacoma, there's a good chance that reports of the new Tacoma model's off-road prowess brought you here. However, only the F-150 offers an off-road trim that can truly tackle any challenge. Here's how they measure up:
We do have to hand it to the Toyota for offering two off-road-focused trims at price points that might seem attractive. There's the Tacoma TRD Off-Road, for $33,800 MSRP, and the Tacoma TRD Pro, for $42,960 MSRP.
Neither Tacoma off-road trim can hold a candle to the Ford F-150 Raptor. The TRD Pro offers skid plates and heavy duty shocks. The Raptor adds these, plus more powerful engine, wider front/rear tracks, enormous all-terrain tires, skid plates, and more durable control arms. You'll also enjoy unique all-terrain driving modes, all for $52,855 MSRP.
Since the Raptor is considerably more expensive than either of the Tacoma off-road trims, we'd understand if you were still tempted to make the conservative choice. However, we think drivers who opt for the more powerful truck will feel well-rewarded in the long-term. What's more, they'll drive with the confidence that nothing can hold them back!
Find a New Truck for You at Triple J Guam
Maybe you're ready to take the next steps and apply for financing. Maybe you'd just like to see one of our powerful new Ford F-150 models for yourself! No matter where you're at, we'd love to have you come in and take your test drive. Contact us today to get started.
Latest on Ford Models on Guam
If you're in the market for a new pickup, there are few brands that can top the reliability, performance, and capability of a Ford truck. Built for your next adventure, the 2021 Ford Ranger is an excellent option for Federated States of Micronesia drivers who want a powerful truck that doesn't have a lot of bulk in…

Do you want to be able to take on our Guam roads like a boss and look good while doing it? Then you should be driving the new Ford F-150. There are no fewer than fifteen bold Ford color options that will let your presence be known, wherever you drive this truck. You can find…

Guam drivers know the power of the Ford F-150, but what about the new F-150? Just how much can the 2021 Ford F-150 tow? Well, it turns out that number is pretty staggering. When properly equipped, the 2021 Ford F-150 can tow up to 14,000 pounds! This will make quick work of any tough job…