Triple J Donates $45K to Guam Nonprofits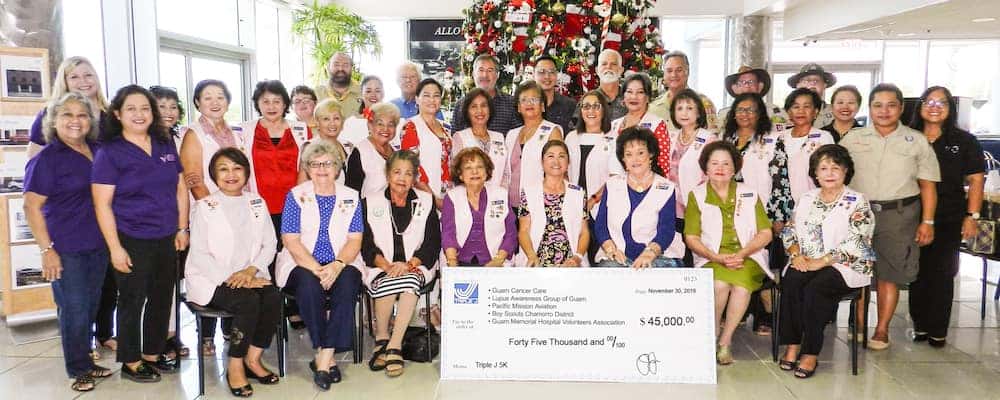 On November 17, 2018, Triple J Enterprises hosted our 13th annual Triple J Family Fun Run/Walk to raise funds and awareness for five worthy organizations. With the help of 3,000 runners/walkers, and more than 250 volunteers, we were able to raise $45,000, which on November 30, 2018, we were able to distribute evenly, providing $9,000 to each of the following organizations.
Guam Cancer Care
Guam Cancer Care's mission is to provide assistance for ALL people afflicted by cancer, regardless of race, income, or gender. GCC provides professional services at no charge, including counseling, screening, education, and transportation assistance, so patients can focus on the task of recovering.
Boy Scouts of America, Chamorro District
The local chapter of the Boy Scouts of America helps to prepare young boys for leadership roles in life, providing them with access to the tools, education, and community that helps to build strong, capable, honest men ready to succeed in life.
Pacific Mission Aviation
Pacific Mission Aviation is dedicated to spreading the Christian Gospel throughout Micronesia and the Philippines, as well as relief transport, delivery of medical and food supplies to people in need, and logistical help to Island organizations.
Guam Memorial Hospital Volunteers Association
The Guam Memorial Hospital Volunteer Association works in cooperation with the Guam Memorial Hospital Authority to provide support for hospitals, patients, families, and visitors, as well as to engage with a variety of charitable fundraising activities to help raise funds for hospital programs.
Lupus Awareness Group of Guam
Lupus is a devastating autoimmune disease that causes inflammation and tissue damage to the skin, joints, and organs. In severe cases, the condition can be fatal. The Lupus Awareness Organization works to educate the public about this condition and work to advocate for individuals afflicted with Lupus.
We Love Guam!
It is our honor to work with these organization who do so much for our community. To learn how you can help, contact the organizations above, or check out our community page for other projects we're working on. While you're there, explore the additional information available on the best cars for families, our military automotive specials, the best beaches around, and our Guam restaurants – you might just learn something fun or useful you can use!
More on Our Guam Community
Here at Triple J Guam we are committed to providing outstanding customer service and finding new ways to make your car shopping experience as convenient and hassle-free as possible. It is with this goal in mind that we've added an Online Shopper feature to our website. Now our customers from Guam to Palau, can select, finance, and…

Whether you're looking for a classic bouquet of red roses or a more extravagant arrangement of mixed tropical flowers, there are many florists in Guam that you can choose from to make Valentine's Day special for the one you love. Here at Triple J Guam, we've compiled a list of some of our favorite Guam florists, any…

One of the most popular things to do in Guam and the CNMI is to dive beneath the waves and get up close and personal with a world of tropical creatures you won't find anywhere else. If you're thinking of vacationing in Guam this year and want to try your hand at Scuba diving –…